Project at a Glance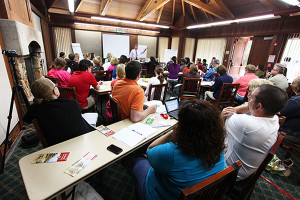 Our program faculty included a host of premier scholars of California and Southwest Mission studies
A preeminent group of archaeologists, art, architectural, and social historians, musicologists, conservators, curators, linguists, religious and community scholars directly engaged in Mission studies participated in the NEH Landmarks of American History and Culture Summer Workshops for School Teachers in the California missions in July of 2013.
Participating faculty and community scholars included Dr. Douglas Monroy, Professor of History at The Colorado College, author of Thrown Among Strangers: The Making of Mexican Culture in Frontier California; Ms. Gloria Fraser Giffords, Spanish colonial art conservator, author of Sanctuaries of Earth, Stone, and Light: The Churches of Northern New Spain, 1530-1821; Dr. Jack Williams, Director, Center for Spanish Colonial Archaeology, author of The California Presidios; Drs. Rose Marie Beebe and Robert M. Senkewicz, University of Santa Clara/Series Editors: Before Gold: California under Spain and Mexico Monograph Series, University of Oklahoma Press; Dr. James Sandos, Farquhar Professor of the Southwest, University of Redlands, author of Converting California: Indians and Franciscans in the Missions; Dr. Craig Russell, Professor, author of From Serra to Sancho: Music and Pageantry in the California Missions; Dr. Robert Hoover, Professor Emeritus of Anthropology at Cal Poly San Luis Obispo/Member, California Historical Resources Commission, author of The archaeology of the Franciscan experience in Alta California; Dr. Russell K. Skowronek, Professor of History and Anthropology/Co-editor, X Marks the Spot: The Archaeology of Piracy; and Mardith Schuetz-Miller, Author, Building and Builders of Hispanic California, 1769-1850, and The Practice of Architecture in Mexico.
Friar William Short, OFM, Professor of Spirituality/Academic Dean, Franciscan School of Theology, Berkeley; John Warren, Director/Musicologist, New World Baroque Orchestra; Ann Marie Sayers, Tribal Chair/Storyteller and Ohlone Indian descendant, Indian Canyon; Cynthia Lewis, Art History Instructor/Rio Hondo College; Linda Yamane, Ohlone Indian descendant/Traditional basketry/music artist, Mission San Carlos Borromeo; John Grafton, blacksmith, Spanish colonial metalwork specialist, and San Juan Bautista State Park docent; Kristina Foss, Curator, Mission Santa Barbara; Carol Kenyon, Fine Arts Conservator, Mission San Antonio, formerly South Coast Conservation Center, Santa Barbara; Alan Kemp, Independent Researcher/Spanish maritime history.
This formidable cadre of both academic and community scholars sought to facilitate the formation of interpretive understandings, and pedagogical approaches, to the exploration of the California missions; and this from the varied perspectives obtaining between the cultural, social, political, religious, and economic landscapes of that period spanning 1769 through 1848.
What we offer
1
Historic landmarks tours by renowned experts
Workshop participants will be escorted by archaeologists, historians, conservators, tribal descendants, and other specialists.
2
On-site demonstrations of Mission era crafts by master craftsmen and women

Demonstrations include the craft production of Spanish colonial ironwork and Native Californian basketry.
3
Native Californian storytelling and Mission music performed with period instruments

Workshop participants will be treated to the presentation of Ohlone Indian stories and authentic Mission era musical compositions.