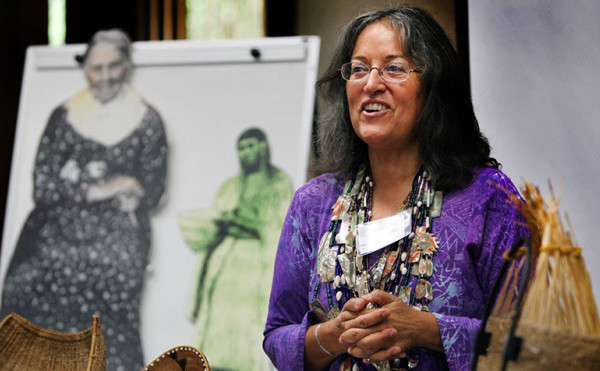 The Basketweaver
Linda Yamane traces her ancestry to the Ohlone people, whose indigenous territory includes the San Francisco and Monterey Bay areas of California. She has earned a reputation as an accomplished California Indian basketweaver who has nearly single handedly brought back the ancient tradition of Ohlone basketweaving from the brink of extinction. Over a period of more than twenty years, she has worked to learn the intricate details of traditional Ohlone basketry styles, native plant materials and weaving techniques.
Her workmanship has been recognized by numerous state, federal and local agencies who have invited her to both exhibit and demonstrate Ohlone basketry in parks, museums and public programs. Perhaps her greatest honor was an invitation to demonstrate Ohlone basketry at the Smithsonian's 2006 Folk life Festival in Washington, DC, where she was part of the "Carriers of Culture—Living Native Basket Traditions" program.
Linda is currently working on a commission from the Oakland Museum of California to create a rare Ohlone feathered and olivella beaded basket for their permanent collection and exhibition in their California history gallery. Upon its completion in Spring 2012, it will be the first of its kind to be made in approximately 250 years.
Yamane is also working on a second feathered basket through a grant awarded by the Creative Work Fund of San Francisco, California, which will become part of the artist's private collection. She is working in collaboration with the Big Sur Land Trust to educate the public about traditional relationships with the land and the continuing vitality of indigenous culture in California. She has twice shared her knowledge of Ohlone basketry through the Alliance for California Traditional Arts' Apprenticeship Program. You can read her blog on ACTA's website <www.actaonline.org>.